About
Richy's Restaurant offers a warm and relaxing atmosphere where one can sip a glass of wine from the bar and chat with friends. The dining area is in two sections with bright colourful walls, small bar area, sofa and dark wooden tables. On one of the sides there is an opening to the kitchen where Richy and his team are busy cooking!
Diners are tempted with weekly changing specials boards and a well thought wine list. We offer about 30 different wines, enough to have a good choice but not too many to scare one off.
Holding up to 100 guests, there is a great buzz about the place. Richy's is a restaurant where locals and tourists return again and again.
With the restaurant being in two sections, Richy's can cater for evening dinners, private functions or for someone looking for a quiet corner.
Children are also very welcome and highchairs are always available. The children's own mini menu gives a healthy choice, offering vegetables, fresh fish and potatoes rather than only chips and fried food for their dinner.
Richy has written a cookbook that has some of the favourite dishes served in the restaurant. During the autumn and winter months we run cooking classes and theme nights to keep things fun and to add variety for our customers. We also offer outside catering for small or large occasions.
In May, Richy and his team will celebrate 14 years in business!

---
---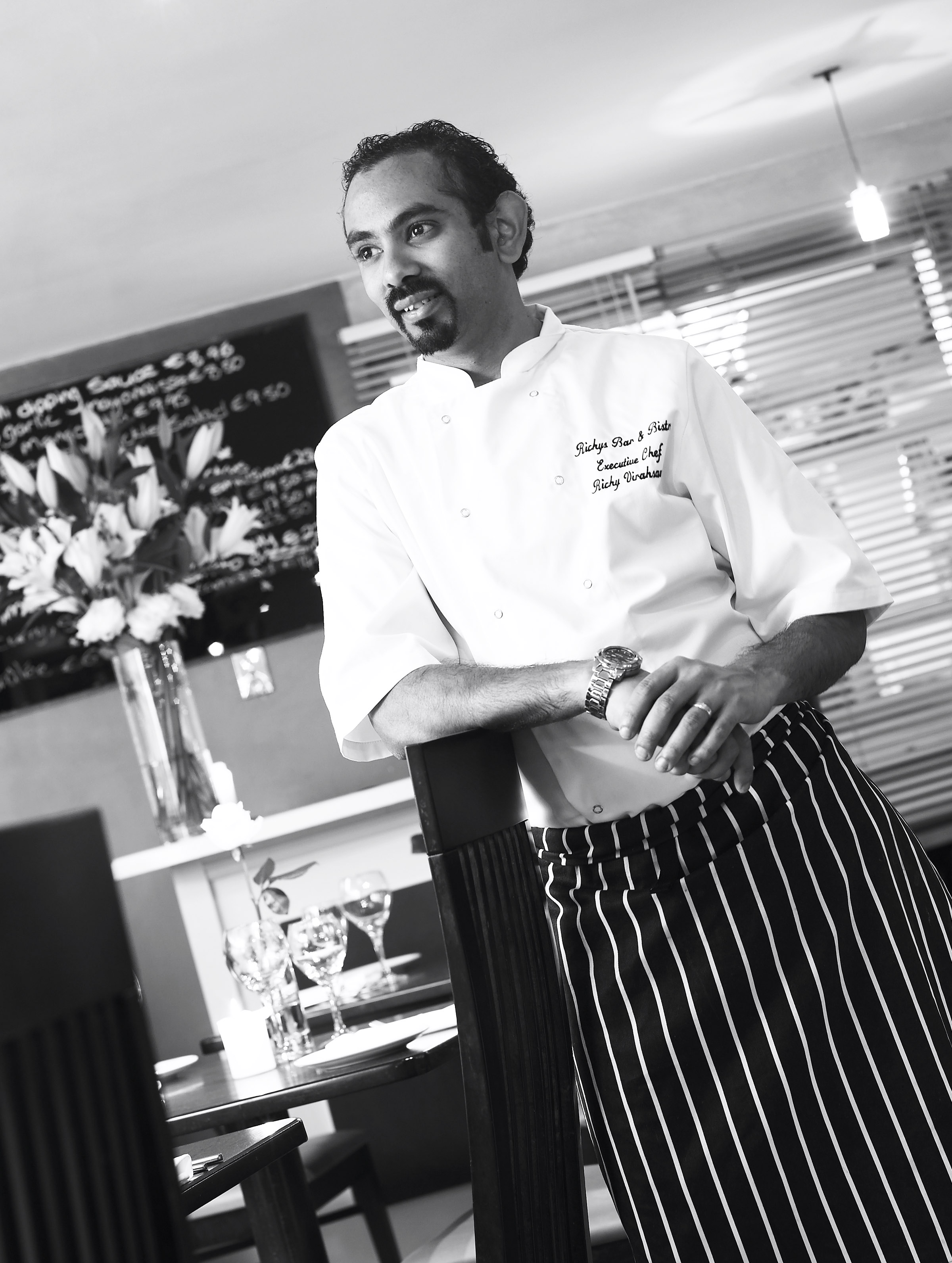 Career History
Richy Virahsawmy has been working in kitchens since he was 14 years old. He trained in London and started his professional career in the Strand Palace Hotel as a first commis chef. He traveled in Australia but returned to the UK working up the ranks in kitchens. He was promoted to a senior sous chef at the age of just 21. Richy then worked in senior chef positions at the UK's Department of Trade and Industry and has worked at No 10 Downing Street catering for banquets for the Prime Minister, moving on as Executive head chef at the world's second largest pharmaceutical company Astra Zeneca in Park Lane London before moving to Ireland to work at Clonakilty based Inchydoney Lodge and Spa in West Cork. In May 2002 he realised his dream of opening his own restaurant and opened Richy's Restaurant. In 2012, Richy also opened RCafe in Clonakilty to turn the business into a 7 day a week multi-operational business.
Richy has catered for large events like the World Web Summit and at the National Ploughing Championship and "A taste of Dublin" in conjunction with Clonakilty Black Pudding showcasing menu development and ways to use this product as more than just a breakfast item.
Richy also does menu consulting working with restaurants in Munster. In 2013 Richy was delighted to be invited to cooking alongside the most decorated Chef in Mauritius Jacqueline Dalais for the Mauritian Prime Minster.
Richy has been enjoying pushing the business forward and he has won several awards along the way. He's part of the prestigious Euro-Toques chef's association and The Good Food Ireland network. In 2008 Richy started working with Michael Flatley looking after some of his private functions including catering for Michaels 50th Birthday party at Castle Hyde. Richy is also a proud member of the Restaurant Association of Ireland .

Richys passion for his local community of Clonakilty and West Cork is recognise through his work with the local Clonakilty Tourism Camber, as well as being a board member of the Model Railway Village. Recently having participated in Clonakilty's first "Food Rescue" event which aimed at preventing food waste, the community-led feast gave locals the opportunity to sample a delicious lunch created from food that would otherwise have been thrown away.

In early 2015 Richy has featured as a chef on RTE Today Show alongside Daithi O Shea every Wednesday as part of a New Year New You program showcasing through fun and lively cooking demonstrations live on TV featuring healthy and easy recipes using local produce.

Since 2004 Richy has been giving cooking classes for adults and children of all ages. In 2014 the R Cooking Studio has been developed and has hosted guest chef cooking demos during A taste of West Cork food festivals as well as interactive hands on cooking classes for the public every month. Plans for the future involve developing the cooking studio further into a test centre for small artisan suppliers who do not have the access to a professional kitchen for food testing. Teaching children is also something Richy loves and hosts a cooking class for Children with Autism , arming them with the life skill of cooking.

Richy is driven and ambitious which he says stems from his personal experience. "Just because you are not a grade A academic student does not mean you cannot be successful in life and realise your goals and dreams". He found what he was good at and what his passion was and turned it into his career. Cooking is in his blood being of Mauritian background. He remembers his parents were great cooks and growing up his Mauritian culture was instilled in his that cooking is not just for fuel but something to be enjoyed. "My mother would be up at 6am cooking up a storm before heading out to work each day". This is where he learned the tools of his trade today.

At Richys Restaurant the menu showcases the amazing local suppliers which are available on our doorstep in West Cork. "Within 3 miles of our doorstep our chicken, milk and beef come from farm to table". Suppliers such as Sally Barnes award winning smoked mackerel is used on the menu in a variety of ways such as served a top scrambled eggs for breakfast our in a risotto for dinner. "Dave Busby just arrived with the season's first strawberries which I am excited to incorporate into our salads and desserts".

2015 is looking to be an exciting year for Richy and his wife Johanna and their 3 girls which the development of their Market Garden at home in Carrigfadda farm in Reenascreena where they currently produce all the herbs and greens as well as tasty cherry vine tomatoes found throughout the menus at Richys with the goal of sustaining the restaurant from the market garden as much as possible.

Reflecting back on 14 years of business in Clonakilty Richy attributes the success of his business to moving with the times, always trying new things, asking the questions what does the customer want and always trying to give that to them each time they walk through the door. Sticking to the basics such as great food, locally sourced, prepared with passion, served with a smile is why we will continue to open the door every day.

Aside from the business Richy and his wife Johanna keep busy with their three little girls. Clonakilty is a great place for them to live life to the full, enjoying the balance of family and work.