Team Building at Richys
LETTING OFF SOME STEAM
This year the staff at Richys decided to let off some steam and frustrations by running around a forest for a few hours shooting at each other and it was the best fun we have had all year! Who does not want to the chance to sneak through a wooded area and ambush your colleagues! Even though some took the game more seriously than others and some wore bright clothing making them an easy target, it was so much fun.
We took part in a team building experience with Seán Devereux who is head of fun. With cool realistic guns and natural environments, feel the pressure and excitement of an adrenaline pumping gun fight without the pain and mess of paintball.
The most fun you can have with a gun in your hand! lasercombat.ie
The equipment was easy to use, we were suited and booted with hats, and a headset that that 3 lights as targets on them that lit up when you were shot and of course a rifle each. After a brief safety intro and division of teams, we headed off into the wood with our platoons and our mission, some to attack and some to defend.
The afternoon was divided into several short 15 minute games with a different missions each time sometimes team on team and sometimes each man and woman for themselves!
Farren Woods was alive with shouts for a few hours , "Your dead", "get him", "he is behind that tree - 6 O Clock", " Who is shooting me?", "Get Chef" as well as plenty of laughter!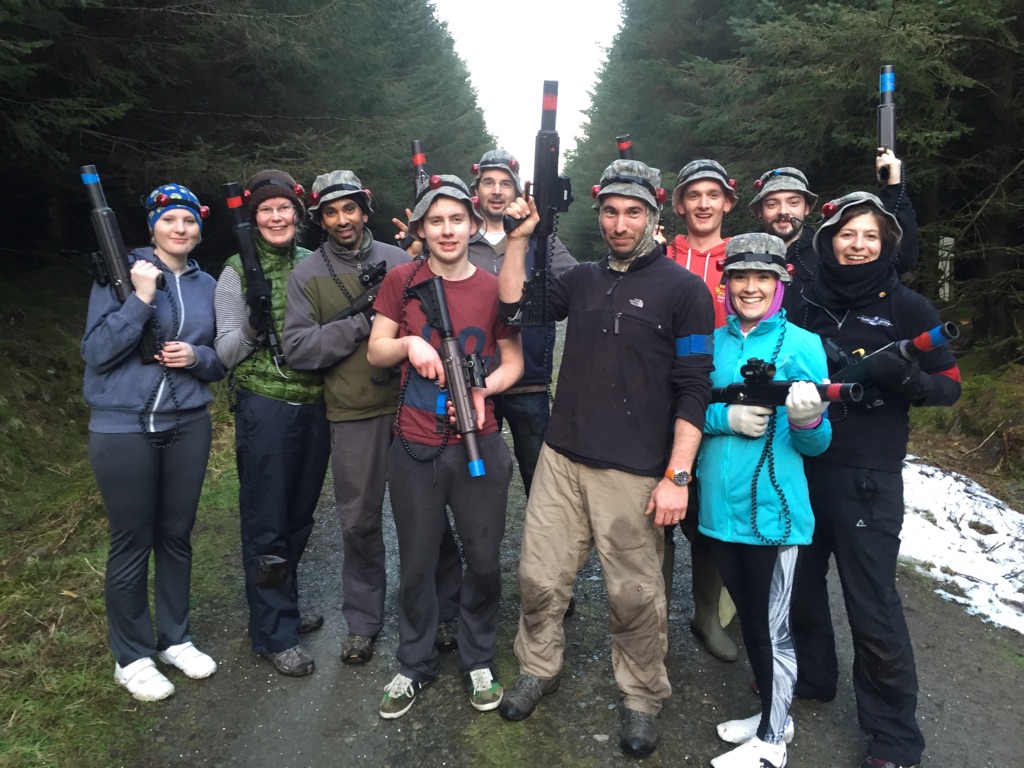 Sean and his team ensured everyone was safe, had fun and we had the time of life as well as enough "bullets"!
If you are looking for a fun activity for any ages, a team building event or hen or stag party we cannot recommend Sean and his team at lasercombat.ie enough. We have also teamed up with Sean in offering alternative day and nights out - read on for further details.
DINNER PARTIES, MURDER MYSTERY, COOKING CLASS
Teambuild.ie formally RebelCorporate.com, a training, team building, adventure sports and events company based in Dublin and Bandon dealing with clients in Europe, Middle East and the Far East. Our team building activities are run by experienced professional teams.
In conjunction with teambuild.ie Richys can host a fun Dinner Game, which is an entertaining quiz where teams are challenged to solve fun questions before, during or after dinner.
Team build will also organise murder mystery nights .
Richys can also host a Hell's kitchen night with teambuild.ie your host, our creative, excellent yet completely bonkers and highly strung "chef" will set you tasks throughout the night as you enjoy a fantastic 3 course meal with wine, teas and coffees.
Richys can host cookery classes each class is designed around a three course dinner with wines especially chosen to suit each of the dishes being served and prepared by yourselves.